Huadong Cable Group is one of the biggest electrical cable manufacturers in China. We have 30 years of production experience and 15 years export experience. There are all kinds of electrical wire for sale in our factory. Such as THHN wire, twin and earth cable, h05vv-f cable , H07 series cable and so on.You can choose the suitable building wire for your projects. What's more, Huadong can also customize electrical cable according to your requirement. Just tell us the electric wire specification you need.


Being a leading electric wire company, Huadong produces electric wire strictly in accordance with international standards. You can rest assured of our electrical cable quality. In addition, Huadong sells electrical cable directly and you can buy electrical cable at factory price from Huadong. Are you interested in our high quality and low price electrical cable? We are looking forward to start a friendly cooperation with your company.Email: sales@huadongelectricalwire.com
Electric wire conductor material
In order to meet the needs of different customers, Huadong Cable Group provides many kinds electric wire. Generally speaking, the conductor material of electrical cable are copper and aluminum. As a professional electric wire company, we have copper h07z-u electrical cable and aluminum electrical wire for sale. Which kind of cable do you want to choose? Please leave your message and tell us the electric cable type you need. Then we will send the best copper electrical cable price and aluminum electrical wire prices to you in 12 hours. Email: sales@huadongelectricalwire.com


What about electrical wire type?
In addition to the the difference in materials, the structure forms of electrical cable conductors are not the same. Among of them, solid conductor, stranded conductor and flexible conductor are the most popular form. As a matter of fact, we are used to calling the solid conductor of electrical cable as class 1 conductor. There is no doubt that the solid electric wire just has single core. So if you want to buy solid electrical wire with the best price, feel free to contact us. We can offer the best solid electrical cable quotation for every customer. Email: sales@huadongelectricalwire.com


When the electrical wire manufacturers mention class 2 conductor, that means they are talking about stranded electric wire. In the electrical cable market, the stranded electric wire is very famous. If you are interested in our stranded thhn electrical wire price, just leave your message. So that our sales team can send the stranded electric wire price list to you as soon as possible. Sometimes, you may need to buy flexible electrical wire cables for your projects. In fact, they consist of tiny and soft class 5 and class 6 conductor. When you are going to purchase this flexible electric wire, welcome to Huadong. If you wholesale electrical cable, we can give you a discount price.
How to find reliable electrical cable suppliers?
When you look for building wire for your projects, you can find a lot of suppliers from all over the world. However, it is not easy to judge whether they are reliable. Because aluminum and copper electric cable have a close relationship with the lives of people. Its quality and safety directly affect the customers' personal and property safety. So you should consider some factors before you decide to place your order.Email: sales@huadongelectricalwire.com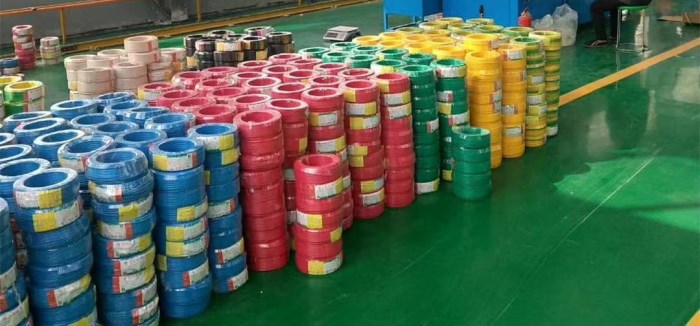 Notice the electrical cable suppliers' reputation
First of all, you need to look for electrical cable manufacturers with good reputation and strong strength. You can search online or ask your friends to get some electric cable company. That may take you some times. But it's really worth it. These electrical wire manufacturers with good reputation have been recognized by the customers. So you can trust them. Huadong Cable Group is a famous electrical cable wire manufacturers both at home and abroad.Email: sales@huadongelectricalwire.com

We try our best to provide the best electric wire for the customers from all over the world. Over the past years, we have exported cheap electrical wire to many countries and areas. What's more, we have always maintained friendly cooperative relations with many enterprises. If you don't know where to buy electrical wire, Huadong is a good choice. We believe that our electric wire price and quality will not let you down. Email: sales@huadongelectricalwire.com
Pay attention to the electric wire manufacturers' strength
Then, you should check their electric cable quality and related certificates. You know that electric copper wire and aluminum electrical wire are national compulsory safety certification products. All manufacturing enterprises must obtain the "CCC" certification. So, you can see if there is CCC certificates on electrical cable appearance. As a professional electrical cable manufacturer with thirty years of experience, Huadong always produce electrical cable strictly in accordance with international standards. Our electrical cables have obtained CCC and other certificates. You can rest assured of our electrical cable wire quality. Do you want to choose Huadong as your partner? Just tell us the wire specification, and we will provide electrical cable price list as soon as possible.

Where to get the best electrical wire price?
What's more, electrical cable cost is also the necessary factors you need to consider. Every customer wants to find the best house wire manufacturer and get competitive price. If you come to Hudong, you can get what you are expecting. You know Huadong is a lectrical wire manufacturer not just a dealer. That's to say, there is no any third party for extra fee.Email: sales@huadongelectricalwire.com

When you wholesale electrical cable, the cost will be lower. If you are interested, we can offer electrical wire wholesale prices. But you need to leave the electrical cable specifications you need. Because there are many kinds of electrical cable for sale. And their prices are not the same. Email: sales@huadongelectricalwire.com


Please feel free to leave your requirement. We will reply you within 12 hours.